Straight Theater interior
These patrons/ dance class students were among the first allowed to dance on the 5000 sq. ' floor after the City of San Francisco Police Dept denied the Straight a Dance Permit months before. After the Bd. of Permit Appeals upheld the ruling we moved our Straight Theater Dance Workshop into the 1500 seater and had the first class with instructors including the Grateful Dead, The Sons of Champlin, The Straight Dancers lead by Head Instructess Caitlin Williams, Ann Halprin' s dance instructors, Lights by Reginald, with Dangerfield doing Sound.
This weekend was the first gig Mickey Hart drummed in public with the Dead initiating the dual drum sound at the Straight Sept 29 & 30 1967.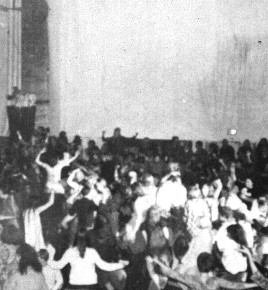 Straight Theater partial floor of dancers Sept 29,1967 by Emi/STE copyright Reg E Williams
---