---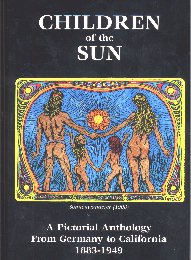 Author: Gordon Kennedy, ed.
Publisher: Nivaria Press
ISBN: 0-9668898-0-0
Format: 192 p. paperback
Ever wonder what the missing link was between the Beats and the Hippies? Although the Hippies picked up some of their philosophy from the Beats (the interest in eastern religion and altered states of consciousness) but the long hair and beards, and the back to nature theme came from other sources. Finally, someone has written a book that sheds some light on all this. It seems that much of the Hippie lifestyle came to the United States from Germany, of all places.
The book consists of bios of 16 proto-hippies, the oldest being born 100 years before Ken Kesey and the youngest being born 25 years before Kesey. In between the bios are photos and drawings of them and their artwork, much of the color art looks like psychedelic posters from the Haight-Ashbury, but were drawn many years earlier. What these bohemians had in common was a need to live an alternative lifestyle in a natural environment, eat natural (uncooked) food, nudity, and yes, grow long hair and beards.
These proto-hippies were really ahead of their times. One even suggested that a natural diet might make a good cure for alcoholism. Today, I know only one alcoholism treatment program that uses this approach. It makes a lot of logical sense, but even that treatment program doesn't go as far as to ban meat, but it comes closest to encouraging a natural diet, free of refined sugars, free radicals and most of the other bad stuff..
The main focus of the book is the proto-hippies live (uncooked) food diet and how they brought it to California. Lucky for us they did or we might not even have that option today. Altered consciousness was not mentioned except some were into yoga and most were against the use of tobacco and alcohol. Other mind altering drugs were not mentioned.
The book ends at 1949, which seems a bit premature. I would have liked to know how this affected the 50s and why the Beat Generation didn't take to this lifestyle, while the Hippies did. Only a few of the Beats seemed to be into the nature thing, Gary Snyder and Lew Welch are the two who come to mind. For most of the Beats, health seemed to be the last thing on their mind.
Children of the Sun is an important book for anyone studying the history of the counterculture. It covers an area little documented before. After reading it, you'll be in a better position to answer questions about the history of health foods and the origins of the environmental movement. I hope it will lead to more books on the subject of bohemian history. Those who are involved in the counterculture will want to add it to their archives.
---
Copyright © 1999, Colin Pringle