The Grateful Dead Bibliography
---
The following list is of Grateful Dead books I have. I hope others will contribute information about other Grateful Dead books you might have. If you have a web site with a flatbed scanner (I just got one), you could help me out by scanning books you have that aren't listed yet, stashing the GIF file on your server and emailing me the URL and information on the book. That way, we can put together a super Grateful Dead bibliography. Until then, here's a more complete bibliography.
---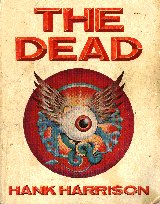 The Dead by Hank Harrison
This is the first Grateful Dead book I read. I got it at Half Price Books, but unfortunately, about the last 30 pages seem to be missing. It appears that they were never bound into the book. My biggest gripe about this book is the writing seems so schizo. It skips around from subject to subject and there doesn't seem to be much continuity. In other words, there seems to be little attempt to tell the story in chronological order. It's filled with all sorts of useful information, but finding it again when you need it is really a chore. The book has a lot of good black and white photos of the Dead, and they're not all publicity shots either.
I've read at least one of Hank Harrison's other books about the Dead, and this one has a photo of the dread vacuum tube mixing console used to make the Dead's first album. No wonder that album sounds so bad! There's no way to record decent rock and roll with only four tracks.
---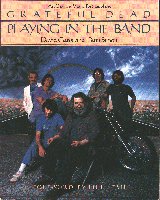 Playing in the Band by David Gans and Peter Simon
This book seems better organized than the above book and it also covers more than the first few years of the Grateful Dead. Since the book was first published in 1985, it covers all but the last 10 years of the Grateful Dead. Hank Harrison's book, in comparison, hardly goes beyond the death of Pigpen, even though it was published in 1980. Playing in the Band is divided into 14 chapters, each covering a specific aspect of the Grateful Dead. It looks like it's well researched and it even lists the sources in the back of the book. It also features an insert section of 32 pages of color photos of the Grateful Dead. A new edition of this book has come out that includes more photos and an extra chapter. David Gans has written two other books about the Grateful Dead that I haven't read yet, but you can find out more about them on the books page of his web site.
---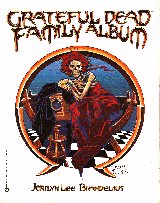 Grateful Dead Family Album by Jerilyn Lee Brandelius
This one is just like it says, a Grateful Dead family photo album and it's not just a random scrapbook either. Someone went to a lot of trouble to arrange everything in the correct chronological order. It starts with the baby pictures and covers the Dead through 1989. Although this is one of my favorite Dead books, I've got a couple of gripes. First of all, the photo credits aren't next to the photos, making it an absolute bitch to figure out who shot what, and this book really needs a who's who page to explain what each person's role was in the Grateful Dead family. This book has many more color photographs than the other books discussed so far.
---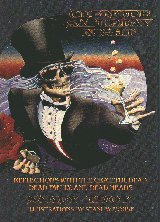 One more Saturday Night by Sandy Troy
I don't like the name of this book because it reflects little on the style of the book, which I think is important because each Grateful Dead book needs its own autonomy. I had to lief through it in order to remember what approach this book uses to tell the Grateful Dead story. I think a better name for it would be, The Grateful Dead: a Story told by many, because that is pretty much what this book is. Everyone from Mountain Girl to Stanley Mouse tell their experiences with the Grateful Dead. This book came out in 1991, so coverage is pretty complete. It is also not a rehash of the same information or photos of the other books. The first chapter of the book is the author's overview and the rest of the book is his interviews with many of the people involved with the Grateful Dead.
---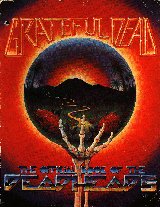 The Official book of the Deadheads
by Paul Grushkin, Cynthia Bassett and Jonas Grushkin
Finally, there's the Deadhead book. This book turns the camera around 180 degrees so we are now looking at the audience rather than the band. Besides the Deadheads themselves, this book also includes items associated with the Deadheads, such as bumper stickers, posters for various shows, tickets, backstage passes, and the like. It also has some Deadhead artwork, which has the nasty habit of winding up at the Grateful Dead Productions office. It has two pages of Deadheads wearing Grateful Dead T-shirts and you can quickly see that no two of them are the same. My biggest gripe with this book is it fell apart on me after I had only had it for two weeks. You know how it goes - you turn the page and it falls out. I had to punch all the pages and put them all in a three-ring binder. Thank God that hasn't happened to any of my other Grateful Dead books.
---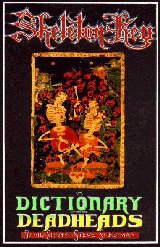 Skeleton Key: A Dictionary for Deadheads
by David Shenk and Steve Silberman
Like the above book, this one covers the Deadheads. In fact, it's everything you ever wanted to know about the Deadheads and then some. It is also about the Haight-Ashbury, some of the halls the Dead played in, tape trading, connecting up with other Deadheads through cyberspace and it's also a who's who as far as the Grateful Dead family is concerned. It even has a bibliography of books Deadheads should read. Unlike the other books, this one isn't another picture book, it's a resource book and a well researched one at that.
Although the Grateful Dead are no longer touring (and it's kind of hard to tour with a dead lead guitar player, who's ashes are scattered all over the ocean and who's spirit is scattered all over cyberspace, including my web site), this book is still of historical importance, plus tape traders are still trading tapes in spite of the fact that there are no new ones to be made. I hope the authors will put out a second (memorial) edition.
---
I have more book reviews on my Reviews page and on my Ken Kesey page.

---
Copyright © 1995, 1997, Colin Pringle (colinp1@mindspring.com)
Filename: dead-bk.htm
(Please mention this filename when reporting bad links or other problems on this page)
12-3-95