Memory Babe: A Critical Biography of Jack Kerouac
By Gerald Nicosia
---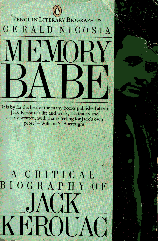 With a New Preface
"By far the best of the many books published about Jack Kerouac's life and work, accurately and clearly written, with a sure feeling for Jack's own prose." -William S. Burroughs
"A splendid work, illuminating the pathos of a beautiful young novelist who, like Elvis Presley, became an object of derision when he dared to age. . . . Whether or not a reader agrees with Nicosia's evaluation of Kerouac as a 'great' writer, he persuades the reader to return to Kerouac's work." -John Rechy, Los Angeles Times
In 1969 Jack Kerouac died a premature death. While his legendary lifestyle and unique creative talent made him a hero in his lifetime, his literary influence has grown steadily since. With Memory Babe (a childhood nickname honoring Kerouac's feats of memory), Gerald Nicosia gives us a complete biography of Jack Kerouac-an honest, discriminating and, above all, compassionate assessment. This edition is enhanced by many rare photographs never before published.
"Memory Babe [is] the most relentless and thoroughly researched of the Kerouac biographies . . There is a day-by-day tracing of Kerouac's thoughts and movements astonishing in its exactitude. . . . For those who believe Kerouac was a great writer, there is no more useful guide to the Duluoz Legend, as Kerouac called his pantheon of novels." -Barry Gifford, USA Today
"Gerald Nicosia's dedicated scholarship in Memory Babe has added important new material that significantly expands our knowledge of Kerouac and his literary achievement." -Ann Charters, editor of The Portable Beat Reader
"[Nicosia] offers us an unsparing, complex, and finally compelling portrait of a writer who remains in the end, far though he fell, as large- souled as his admirers have always claimed him to be." -Adam Gussow, American Book Review
"[Memory Babe] meshes well with Kerouac's own books, paraphrasing them, putting their story in chronological order and fleshing out the autobiographical legend." -Morris Dickstein, New York Times Book Review
Gerald Nicosia is a poet, fiction writer, playwright, and historian. While still a work-in-progress, Memory Babe earned him the Distinguished Young Writer Award from the National Society of Arts and Letters. He is currently at work on Home to War: A History of the Vietnam Veterans' Movement.
0-520-08569-8 $18.00 paper
775 pages, 6 x 9", 32 b/w photographs
First published 1983
Biography/Literature/Cultural Studies .