In Loving Memory of...
Pigpen of the Grateful Dead
---
Pigpen was born Ron McKernan on September 8, 1945 in Palo Alto, California, where he also grew up. His father was a rhythm and blues disk jockey, so Pigpen got exposed to that type of music at an early age. I'm not sure how many brothers and sisters he had, but I know he wasn't the only child.

Pigpen started playing in bands at an early age and was too non-conformist to deal with high school, so he dropped out. He was playing gigs at places like the Aztec Lounge, the Anchor Bar and the Boar's Head at the age of 15 (around 1960). Since he was playing in all these bars, naturally he started drinking at an early age.

Many other San Francisco musicians got their start in Palo Alto, including Jerry Garcia. I'm not sure why Palo Alto seemed to have more than it's share of bohemians in the early sixties (I think Jerry was there because of trouble in the San Francisco schools) but it was a university town that had a bohemian area known as Perry Lane (where Ken Kesey lived). Another reason may have been the LSD experiments conducted at Stanford University and at the Menlo Park Vets Hospital, which is located just north of Palo Alto. In 1959, both Allen Ginsberg (at Stanford) and Ken Kesey (at Menlo Park) were involved in these experiments.

In the summer of 1963, some greedy developer bought most of Perry Lane so he could tear down all the cottages and put in a yuppie shopping mall or something. That may have been when people first started migrating to San Francisco and the Haight-Ashbury district, although they also migrated there from North Beach because the rents had become unaffordable. Pigpen and Jerry didn't live on Parry Lane, so they stayed in Palo Alto. Kesey found a place in La Honda, which was closer to Palo Alto than San Francisco was.

Pigpen was involved with some place called the Chateau at the time. I don't know what exactly the Chateau was, but Pigpen said in an interview that it was the first real heavy commune he was in. Apparently it was a place where musicians would go and jam.

It was right after Kennedy got shot that the music scene really started to change. First, the surfing music started to happen and right after the assination, the British Invasion happened, and that seemed to finish off the folk music that had been happening up to then. Members of the Grateful Dead started playing together in various combinations until 1965, when they found the perfect match of musicians. First they were known as Mother McCree's Uptown Jug Champions, then the Emergency Crew and then the Warlocks. It was only after they played at their first Acid Test that they became the Grateful Dead (close to the start of 1966).

Pigpen had a lot of bad luck in the Grateful Dead, although I have found this to be overdramitized on more than a few occasions. Many have said he didn't like acid, and according to some of the books about the Grateful Dead, people kept dosing him against his will. Owsley (Bear) disagrees with this, saying it never happened before the San Francisco State Acid Test. I'll include his side of the story after I mention what's been written in the various books. Of the four incidents mentioned in these books, my best guess (and an educated one at that) is the first two never happened, the third one happend, but with Pigpen's consent, and the fourth one might have happened, but not to the extent claimed.

The first time it supposedly happened was at the Muir Beach Acid Test (according to Mountain Girl). You can read about that incident in One More Saturday Night by Sandy Troy. Since that Mountain Girl interview in that book is not consistent with other published accounts of the time period, such as The Electric Kool-Aid Acid Test by Tom Wolfe, I tend to discredit it.

The next time Pigpen was claimed to have been dosed against his will was at the Watts Acid Test, which you can read about in the book, On the Bus. Like the Mountain Girl story above, it's not really clear on the circumstances of how he got dosed, but according to the book, he picked up a drumstick of Kentucky Fried Chicken and it somehow caused him to freeze into a statue for at least 15 minutes. At first, I thought it could have been that the grease in the Kentucky Fried acted like DMSO (the solvent mentioned in The Electric Kool-Aid Acid Test) and caused the LSD to get into his system, but the more I think about it, the less I think it was likely to have happened. This same book also claims there was an ungodly amount of acid in the Kool-Aid, which I also think is incorrect. From what I can tell, the reason that there were so many freakouts at Watts was due to psychological factors, like set and setting, and the piping of the Who Cares Girl's freakout over the PA system, instead of handling it the way Kesey would have if he had been around. You know the old cliché: When the cat's away the mice will play.

Pigpen was dosed at the San Francisco State University Acid Test, but this time, everyone in the band had agreed to be dosed, so there weren't any nasty surprises.

The last time (probably the only time) someone may have dosed Pigpen without his consent was the incident at Fillmore East. I don't think Bear was with the band when the Fillmore East incident was said to have happened. That one was probably more likely, because by 1971, the band had a road crew, who tended to know more about the band members than outsiders, any of which who could have dosed him. At any rate, I'm not able to dispute this alleged dosing to the degree I can the earlier ones. According to Hank Harrison's book, The Dead, someone put over 2 milligrams (2000 micrograms) on the rim of one of his beer cans and when Pigpen drank it, he got dosed so badly that he couldn't play the second set at Fillmore East. That was in April, 1971.

What's suspect in this case is the amount of acid reported to be involved. 2 milligrams is enough for 20 good size doses, each stronger than the usual hits of blotter acid today. Anytime you hear of acid in concentrations greater than 500mcg a drop, you know it is probably false.

Did any of these incidents really occur or are they just tall tails? Remember, for all but the Fillmore East incident, we're talking about the Grateful Dead over 30 years ago, a year before their first record album came out and before the Monterey Pop Festival made them famous outside of San Francisco, and people are likely to twist the details to make their books more interesting. As far Pigpen being dosed before the San Francisco State Acid Test...well, I tend to side with Bear on that one. I can't think of a single reason anyone would have dosed him without his permission before that. Who would risk a practical joke on a dude who looked like a Hells Angel and who actually hung out with them? Anyway, here's what Bear has to say about all this alleged dosing...
---
Pigpen was never dosed until the SF State gig. Not at Muir, not at Watts. I should know, I was very close to Pig, and we had an agreement that I would not dose him or let anyone else do it, and I stood by that until it was decided by the entire band to do the deed at SF. After the trip, he said we had waited too long-- but I reminded him of my promise.
I never read On the Bus, but I can tell you that no matter what is written there, the dosage in the Koolaid at Watts was about 50 mcg per little paper cupful. It was 25 mcg/ounce. The cups we used were the ones you found at water stations with inverted 5 gallon bottles, about two ounces. I was very careful, and we had only a limited amount of acid. I began the acid making trip in 64 because I was concerned about dosage and purity. There was no chance the dose was any different than I intended, the acid was premeasured on a lab scale. The problem was that for some possibly cosmic reason, whomever drinks a little acid in, say, coffee (as at the CBS LA Playboy After Dark show taping) or in Koolaid, as at the Acid Tests, always wants more and more and... so many people wound up with doses of hundreds of mics. I personally watched with alarm Neal Cassidy drinking maybe as much as thirty cups. He was one cosmic dude! There were plenty of overamped people there. This experience highlighted the most obvious problem with the Koolaid, which always sent things out of control no matter how it was set up with attempts to keep people from drinking too much of it. The last use of the Koolaid medium was at the Dead, Winterland New Year's Eve 1972-73.
Pig didn't have any experience with acid-chicken-- in fact he had no acid until SF State, much later. --
---
The band's financial problems probably did more damage to Pigpen than any other member of the band. Mickey Hart's father had ripped off thousand of dollars of cash from the band and from what I understand, Pigpen's Hammond organ got repossessed on several occasions, right before important gigs. Pigpen also had a new car that he really liked and that the band was supposed to pay for but they didn't, and apparently, it got repossessed as well.
Pigpen probably gave the squares fits more than any other member of the band. He looked like a Hells Angel for one thing, and he even had Hells Angel colors. They had made Pigpen an honorary member, but on what occasion, I don't know. I don't know if he went on any runs with the Angels or not. Jerry came up with the name Pigpen for him, because he was always leaving empty beer cans and whiskey bottles all over the place, which as I said, didn't go over to well with the squares, but all of the bohemian types really liked him.
For a while, Pigpen was the icon of the Grateful Dead. His picture is probably on more of the Grateful Dead concert posters than any other member of the band and he also is in many of the collages that the poster artists did. I don't think that anyone who has ever experienced Pigpen will ever forget him. There wasn't another person like him in all of the Haight-Ashbury, and when he died, the Grateful Dead became a different band.
I'm not sure exactly when Pigpen first got sick. The closest I can figure it was August, 1971, because the band didn't do any gigs between August 26 and October 19. Pigpen had to go into alcoholism treatment and it seemed to be a major disruption for the band. This was also when the Grateful Dead got Keith Godchaux to tide things over. Pigpen did do some gigs with the band after that and I think he went on Europe, 72. The last time he played with the band was at the Hollywood Bowl on June 17, 1972. Nobody knows exactly when Pigpen died because it happened sometime in the night when nobody was around. The date of his death is given as March 6, 1973, but technically speaking, this could off by a day.
Pigpen may have known he was terminally ill, but he didn't tell anyone in the band. He did tell his girlfriend that he didn't want her around when he died, so she left about two months before he died. According to Bear:
He had a liver problem, but it was a burst doudenal ulcer which caused his death from internal bleeding.
He was buried at Alta Mesa Memorial Park in Palo Alto.
---
Discussion on rec.music.gdead about all this

>Hey now!!
>
>I've said my goodbyes to Jerry on the Pacific and to Jim Morrison in Paris, but haven't been able to
>find Pigpen's grave.
>
>Does anyone know where he's buried? I really want to read those
>words with my own eyes, ". . . is and will always be, a member
>of the Grateful Dead."
>
>Peace-
>Ron
---
Ron--
He's buried about two miles from where I am now in Palo Alto, CA, at Alta Mesa Memorial Park. It's a small metal plaque on the ground (next to his parents, incidentally) that reads something like:
____________________________
       RON McKERNAN
         1945-1973
Pigpen was and is now forever 
one of the Grateful Dead.
_____________________________
There are usually beads or incense or some pennies that kind heads have left...I sometimes wonder how they find it...you would never know unless you were looking for it.
--Dan

---
After reading this page, Dan volunteered to go to Pigpen's grave and snap us a photo. Here it is: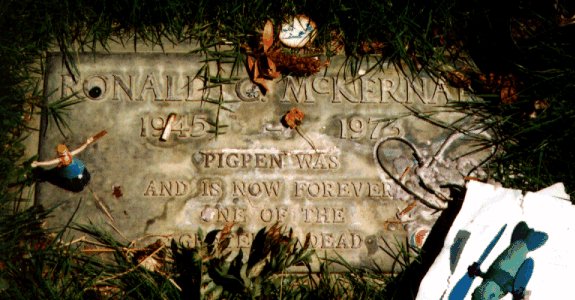 Dan also sent these directions to the memorial park:
For anyone wishing to visit, just take 101 south from San Francisco, head west on Page Mill (just past Palo Alto) to El Camino, take a left for a couple of blocks to Arastradero Road, where you take a right. Alta Mesa Memorial Park is on the left about a mile down the road. Pig is off Almond Road inside the park, Hillview section 16. You'll see the flowers...
---
Another Deadhead writes:
Since it came up last week, Pigpen is at Alta Mesa Memorial Park Cemetery, 695 Arastradero Road in
Palo Alto, CA.  Below are ASCII maps of how to get to the cemetery and his grave.  

Please be respectful! 


Bayshore Freeway (101)
_______________________________________________
[                 \
[                  \
[ Oregon Expwy      \San Antonio
[                   /\
[                  /  \
[      Charleston /    \
[                /      \
[ ____________________________ El Camino Real
[              [            [
[              [            [
[ Page         [ Arastradero Rd.
[ Mill         [            [
[ Rd.          [ xAlta Mesa [
[              [  Cemetery  [
[ _____________________________ Foothill Expressway
[                           [
[                           [
[                           [  El Monte Ave.
[                           [
[                           [
________________________________ Junipero Serra Fwy      



                        Almond  /
                          Dr.  /
                              /
                             /x Ron
Entrance       Office       /
                x          /
x ------------------------/
  Chapel          Oak 
    Rd.          Grove Way

Pigpen's grave is in the Hillview Section, Section 16 on the right side of Almond Dr.
The plot along the road is labeled "Ramirez" and "Lien".  Pigpen is two rows in from there.

"Pigpen Was and Is Now Forever One of the Grateful Dead"


---
Still another Deadhead writes:
He is buried in Alta Mesa Memorial Park. I believe this is in Palo Alto or in a very nearby community. I am not from the Bay Area so I'm not exactly sure but it shouldn't be hard to look up. I was taken there twice by friends-the first time was just before the last Frost show. I remembered at the time how close the cemetery was to the Frost. On a good night, with the wind just right, maybe you could here the music there...Anyway he resides is plot 311 and his grandparents (I believe it's his grandparents anyway--their names on the placard are Frank McKernan 1891-1949 and Alice McKernan 1894-1973) are next to him. The cemetery is one of those with no raised tombstones. All the placards are flush to the ground (hence the 'park' in the place's title I guess). Pig's placard reads:
Ronald C McKernan 1945-1973
Pigpen was and is now forever one of the Grateful Dead.
---  
   Craig O'Leary
     ctoleary@ix.netcom.com

         All things on this earth were made for the dying...
            ...It's been too many years to watch our hearts die this way
                                       Jorma Kaukonen
---
Well, I think that pretty well covers it. Happy Pigpen mourning. Happy? I think you know what I mean.

---
Copyright © 1995-2001, Colin Pringle
Photo copyright © 1996, Dan Parker
Used with permission
pigpen.htm