Review: Rock and Roll Poster Art Screen Saver
---
Publisher: Julian Multimedia
Requirements: 386 or higher processor, Windows 3.1 or higher, 8mb hard disk space.
Media: 3.5 high density disks
Cost: $35.30 (including shipping)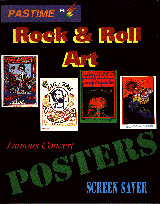 Actually, this program has two functions. First, it's a screen saver as mentioned. It's kind of like a slide show that shows each poster (33 in all) for 10 seconds (or for the amount of time you set.) You can turn off the screen saver when it's likely to get in the way of your work. I decided to disable the automatic loading of the program because the more programs you have running in the background, the more bogged down your machine becomes. To do this, you have to remove it from the win.ini file. I would have rather seen them stash the program in the startup group so I didn't have to hunt around for it.
You can also use the posters (one at a time) as wallpaper for your desktop. When you select this function, a window pops up and nine thumbnails of posters appear. You can scroll through all of them and select the one you want. When you do this, it puts the poster into a .bmp file in the program's subdirectory. Then it tells control panel to use it as wallpaper.
The posters are from the Family Dog concert series. They are of good quality as far as color goes, slightly bigger than the same posters in The Art Book of Rock. The 33 posters take two disks to save as gif files, so you can tell the resolution is fairly decent.
Actually, I didn't buy the program to use as a screen saver. I wanted the posters. They did a better job turning them into files than I could have done scanning them in from my book. I hope that their next project is a CD-ROM that includes all the posters (Bill Graham series as well as Family Dog).
Click here to see their blurb and some of the posters.
---
Copyright © 1995, 1996, Colin Pringle
5-30-95