The Haight-Ashbury 30 Years Ago:
A Timeline
---
The data for this timeline comes from the book The Haight-Ashbury: A history by Charles Perry. I started it so people could look up what was going on in the Haight-Ashbury 30 years ago. Well, the 30th anniversary has come and gone, but the timeline is still useful when you need to find out what happened when, and it contains many dates not included on the Judeth Goldsmith timeline, which is the other major timeline about the counterculture.
---
1964
June 14, 1964 - Ken Kesey's bus trip to New York - one Prankster didn't make it and landed in the loony bin.
---
1965
February 21, 1965 - Owsley's pad in Berkeley raided. Lab equipment taken, but Owsley sued and got it back.
April 24 - Kesey busted for marijuana at LaHonda.
June 29 - Red Dog Saloon opened in Virginia City.
July 4 - Mothers Club opened with Tom Donahue as disk jockey.
When? - Kesey's gig at Esalen Institute - Sandy freaks out and gets sent to loony bin.
August 7 - Kesey's Hells Angel party on Labor Day weekend - Cohen's CD-ROM and biography on Ginsberg dispute date.
September 6 - First newspaper story by Michael Fellon that used the word Hippie to refer to the younger bohemians
(as opposed to the older Beat Generation) in San Francisco. The name did not catch on with the establishment press
until almost two years alter.
September 21 - The Blue Unicorn got busted by the Health Department. What a bummer!
October 2 - The Beatles concert in the Cow Palace that was so bad that the Pranksters had to leave halfway through.
October 15 - Kesey speaks at Vietnam Day Committee rally.
October 24 - Family Dog Dance at Longshoremen's Hall - Charlitans and Lovin' Spoonful played.
November 27 - Kesey's first Acid Test at Babbs's pad.
December 4 - 2nd Acid Test at Big Nig's pad - The Grateful Dead played there as the Warlocks. 400 attended.
December 9 - Mime Troupe Appeal II, Beatles release Rubber Soul.
December 10 - 3rd Acid Test at the Big Beat - toilet paper free for all under strobe.
December 17 - 4th Acid Test at Muir Beach - Owsley freaks out.
December 24 - 5th Acid Test in Portland, OR
---
1966
January 1, 1966 - 6th Acid Test at Sound City
January 3 - The Psychedelic Shop opened in the Haight-Ashbury
January 8 - 7th Acid Test in the Fillmore (biggest one yet) LSD dosed Kool-Aid served.
January 14 - Mime Troupe benefit: Appeal III - The Grateful Dead played, but I don't know who else and I don't know why the Pranksters weren't involved
January 21-23 - 8th Acid Test at the Trips Festival in Longshoremen's Hall - Kesey splits to Mexico
February 5 - 9th Acid Test at the Northridge Unitarian Church
February 12 - 10th Acid Test at the Youth Opportunities Center in Compton (near Watts)
February 19 - Chet Helms's first Family Dog production at the Fillmore
February ? - Sunset Acid Test - Los Angeles - Anyone have more info?
March 12 - Danish Hall Acid Test - Los Angeles
April 5? - Pico Acid Test - Anyone have more info?
May 21 - Vietnam Day Committee rally drew less than a thousand people
June 10 - Big Brother and the Holding Company's first gig at the Avalon Ballroom
September 20 - First San Francisco Oracle comes out
September 27 - Riots break out in San Francisco after a white policeman shoots and kills a Black youth
October 1 - Awareness Festival (Stewart Brand) at San Francisco State College
October 6 - LSD became illegal - Love Pageant Rally in the Panhandle
October 20 - Kesey caught
October 31 - Acid Test Graduation
December 16 - Diggers stage their Death of Money and Rebirth of the Haight Parade
---
1967
January 1, 1967 - New Year's day Hells Angel party
January 14 - the powwow - A Gathering of the Tribes - A Human Be-in took place in Golden Gate Park
January 24 - Police chief Thomas Cahill coins the term Love Generation
February 11 - Larry starts psychedelic music DJ shift at KMPX
February 24 - Invisible Circus - a bohemian happening that got so wild that it tore up some church
March 3 - The Berkeley Barb reported you could get high from smoking banana peels
March 16 - LSD chromosome damage hoax first reported
March 19 - Panhandle chalk-in
March 21 - Spring equinox - 7th Oracle published (houseboat summit issue)
The Turning Point
Note: I haven't been able to confirm this, but the idea for the Summer of Love seemed to have happened sometime in April. I have been told that Allen Cohen held a press conference to promote it on April 5 (see below).

The debate was between the Diggers, who wanted to keep the neighborhood out of the limelight, and the shop owners, who wanted to turn on the world. Well, they may have turned on the world, but doing so also finished off the Haight-Ashbury. I can't help to think of how things would have been different had there had been no Summer of Love. It was around Easter when the crowds started showing up in the Haight-Ashbury. Two of the Digger papers that mention this are Uncle Tim'$ Children and street news. I'm not sure why, but Allen Cohen doesn't mention this dispute on his CD-ROM.
March 26 - Easter Sunday - Be-ins held in Los Angeles and New York.
April 5 - Gray Line Hippie Hop bus tour started - Council for a Summer of Love press conference held.
April 7 - KMPX starts playing the psychedelic music
April 29 - Los Angeles love-in draws 4000 people
May 13 - Council for a Summer of Love releases announcement - Hippie panel discussion on NET educational TV
May 15 - Hippie Hop bus tour canceled
May 26 - The Food and Drug Administration reported that it had found no known psychedelics in banana peels
June 7 - Moby Grape busted for making love with minors two days after release of their first album
June 9 - The Haight-Ashbury Free Medical Clinic opened
? - The song San Francisco (be sure to wear flowers in your hair) becomes a major hit
June 10 - Oracle Indian issue published
June 16 - First day of Monterey Pop - Led to stardom for many of the San Francisco bands, but not the Grateful Dead, who had equipment problems (Pigpen's organ kept stalling out on him) and were one of the few bands who weren't filmed for the movie.
June 21 - Solstice happened at 4:30 AM and the Summer of Love started
June 22 - Ken Kesey began a six-month jail term for the LaHonda bust
July 7 - Time publishes The Hippies: The Philosophy of a Subculture issue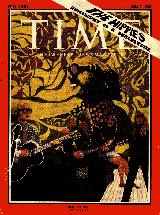 July 9 - Tourists hold gawk-in in the Haight. Police have to break it up
July 11 - Ballot dancer Rudolf Nureyev busted in the Haight
July 14 - Race riots threaten to break out
July 24 - I left Dallas for the trip to the west coast
July 27 - Straight Theater finally opened - riots seem to fizzle out
August 3 - Dope dealers start murdering each other left and right
August 7- George Harrison visits the Haight-Ashbury
August 22 - CBS airs the news special The Hippie Temptation with Harry Reasoner
August 24 - I arrived in San Francisco - Chocolate George died that night
August 27 - Beatle's manager found to have OD'ed on something
August 28 - Wake for Chocolate George (That's where I got on the bus)
September 5 - The Beatles announced that they were giving up drugs (guess their manager's death finally got to them)
September 21 - The Summer of Love goes belly up on my 15th birthday (worst birthday present I ever got)
October 2 - Pigpen busted
October 4 - The Grateful Dead hold press conference about the busts
October 6 - Death of Hip parade, Psychedelic shop closes
---
1968
February 4 - Neal Cassedy died
March - The Grateful Dead get fed up and split the Haight-Ashbury - last Oracle published
March 31 - LBJ pulls out of presidential race so he won't have to run against Robert Kennedy, who was against the war
---
Other related sites
To be continued...


---
Copyright © 1995-2002, Colin Pringle (colin@wild-bohemian.com)
The mail link automatically fills in the subject field so I will know which page you're commenting on.
timeline.htm